Welcome to Browns Bay Presbyterian
We're glad you're here! We hope you will find all you need to know about Browns Bay Presbyterian.
With Gods help we can get through this.
We are a community church comprised of people of all ages and various cultures. Our desire is to help people find and follow Jesus. This means we are discovering what it means to love God, love one another and love the community around about us.
You can visit us at 45 Anzac Rd, Browns Bay. You'll find more information about us from the links on the menu on the left.
From the Pastor's pen:
12 September 2021
Welcome to BBP Family Church's weekly newsletter.
Prayer isavailable daily through the prayer chain and email list. Our Sunday morning services here are also on Zoom and YouTube live at this link.
http://www.bbp.org.nz/news_live.htm

Recorded Services and Resources are here on our website.
On the menu on the left side of the screen you can click on
Readings & Vids to find each week's readings in English or Korean/English parallel. Previous services and readings are also found there. There are pages with each week's newsletter, rosters and various other resources On the Browns Bay Presbyterian website. See https://bbpsermons.wordpress.com/ for written sermon texts.

Annual Congregational Meeting Notice. We will reschedule this meeting when we are out of lockdown and can meet in person.

Lockdown challenges - fellowship
Fellowship (NT koinonia) is about sharing relationship and life together. In 1 John 1:3 John writes:

We proclaim to you what we have seen and heard, so that you also may have fellowship with us. And our fellowship is with the Father and with his Son, Jesus Christ.

Paul writes this in 1 Corinthians 1:9:

God, who has called you into fellowship with his Son Jesus Christ our Lord, is faithful.

One would expect that being together physically is part of this fellowship, but not in this lockdown. Even so, our bond is stronger than the mere physical. We are united in God through Jesus Christ. We are not a club or society. As Church we are the body of Christ. Jesus works through us. In countries where Christians can't meet because they can get killed for their faith, they network in prayer and other ways, often meeting in hiding in small groups. So during this time you can be in fellowship with us on Zoom. And if you want to learn to connect without a PC, try the telephone option. It's a local number to call. If you need to know how to connect - give Jessie Williams a call!

Every blessing,
Robin
MODERATOR'S PASTORAL MESSAGE COVID-19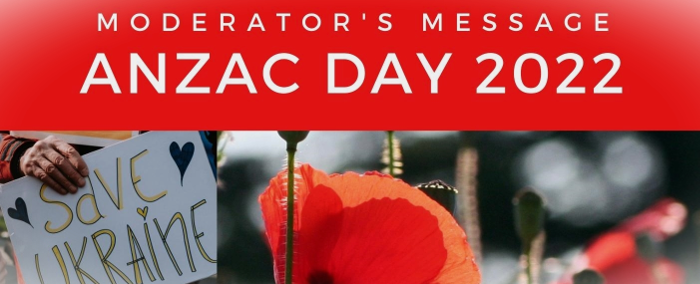 Greetings in the precious name of Jesus Christ our Lord and our saviour.

Once more we find ourselves facing the storm of Covid-19 only this time we are shaken further by the Delta variant that is far more transmissible than any before.

Please do not feel helpless in the face of this immense problem and the trouble it brings to us individually, as a Church, community and country. Lean on your faith and each other. Together we will overcome.

"I will exult and rejoice in your steadfast love, because you have seen my affliction." Psalm 31:7.

Take care of yourself and your family. We need more than ever to stay in our bubbles and follow the requirements to stay home if we are not essential workers. To our wonderful essential workers we say thank you for the risk you take in service to us all.

Daily at 1pm we have heard sad news of an increasing number who have the Delta variant, and of thousands of close contacts waiting anxiously to see if they have the virus. Join me in keeping all those affected, and their worried family and friends, in our prayers. Let us not downplay the seriousness, this variant can and does kill, but we can be hopeful and trust that in the coming weeks it will be contained.

In these distressing times there are things we can do to lighten the load. If your church has suspended Sunday service due to lockdown and has not gone online, please consider how you can reach out to your congregation safely and bring them comfort that they are known by God and always connected with their church community.

"Keep going, do not be tired of doing good." 1 Peter 3:13.

We know that some supermarkets are overwhelmed and that some people cannot access groceries, medicine or get to doctor appointments. Can I ask you to please do what many of you are already – reach out to your congregations and your communities by phone, text, email, social media and make sure everyone can get what they need. Do not put yourself at risk or break lockdown rules but help put people in touch with those who can assist in your community. Let people know that although they are isolated for a time they are not alone, never alone. You are thinking of them, we are all praying for them.

Jesus said, "I will be with you always, even to the end of the age". Matthew 28:20.

For those of us in Auckland, we know we may face more lockdown in the weeks ahead. It may be hard emotionally and financially. Be strong, we will help protect the country by our sacrifice. We will come through this together as a community. Remember that you are seen by God, you are appreciated, valued and loved. Take refuge in God.

"May the God of hope fill you with all joy and peace as you trust in him, so that you may overflow with hope by the power of the Holy Spirit." Romans 15:13.
Fakaofo
Right Reverend Fakaofo Kaio
Moderator Presbyterian Church of Aotearoa New Zealand
GREAT NEWS:- Messy Church
Messy Church has arrived! Come and Join us for Church with a Difference. First Friday of the Month! for information click here.
Facebook.
To get more information about our life and share in weekly readings and prayers, find us on Facebook by clicking on the link on the Left:
New
And now we have a facebook page for mainly music.
To read the weekly sermons go to:
http://bbpsermons.wordpress.com
You can read the most recent message and look through previous sermons at your leisure.

recoded November 2019