Messy Church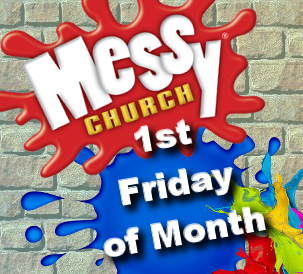 Come and Join us for Messy with a Difference at BBP - 45 Anzac Road - in our Family Centre on Friday.
An evening especially for families with energetic little ones! Bring your own take away supper. Families of all ages and stages come along - often with 3 generations having fun together in a creative learning time - making things - making a mess without getting into trouble - being creative. Enjoy good company, fun, and music... Discover your own creative side and help teach your children to make lovely things together and learn!
Come as a Family or on Your Own. All Welcome! Bring your Picnic blanket and your favourite 'take away' - have great fun- make things - share life together!!
Messy Church first Friday of each month
Firday 4th October.
6.00pm~8pm
Browns Bay Presbyterian Church
45 Anzac Rd, Browns Bay
Phone Inquiries: Robin - 09-478-2441
Some actual moments from some of our times together. Something like organised chaos much fun for all ages. Something different each time.