The readings and previous edited recorded services and sermons are here. To find the reading on this page "Click" on the date below to go to that reading and later on the video. Up to six weeks are kept on this page for more videos from our Pastor Robin click on this link. This will take you to his YouTube video page.
25 July
John 6:1-24 page 1655



04 July
John 1:11-18 page 1646
2 Corinthians 12:2-10 page 1806


11 July
Psalm 19:1-9 page 858
John 5:1-13; 16-28 page 1653


18 July
Ephesians 2:11-22 page 1819
Mark 6:30-34; 53-56 page 1562


Our Sunday morning services are also on Zoom and YouTube
If you can't get on Zoom watch on YouTube as a Live stream on the day on this page's link:
http://www.bbp.org.nz/news_live.htm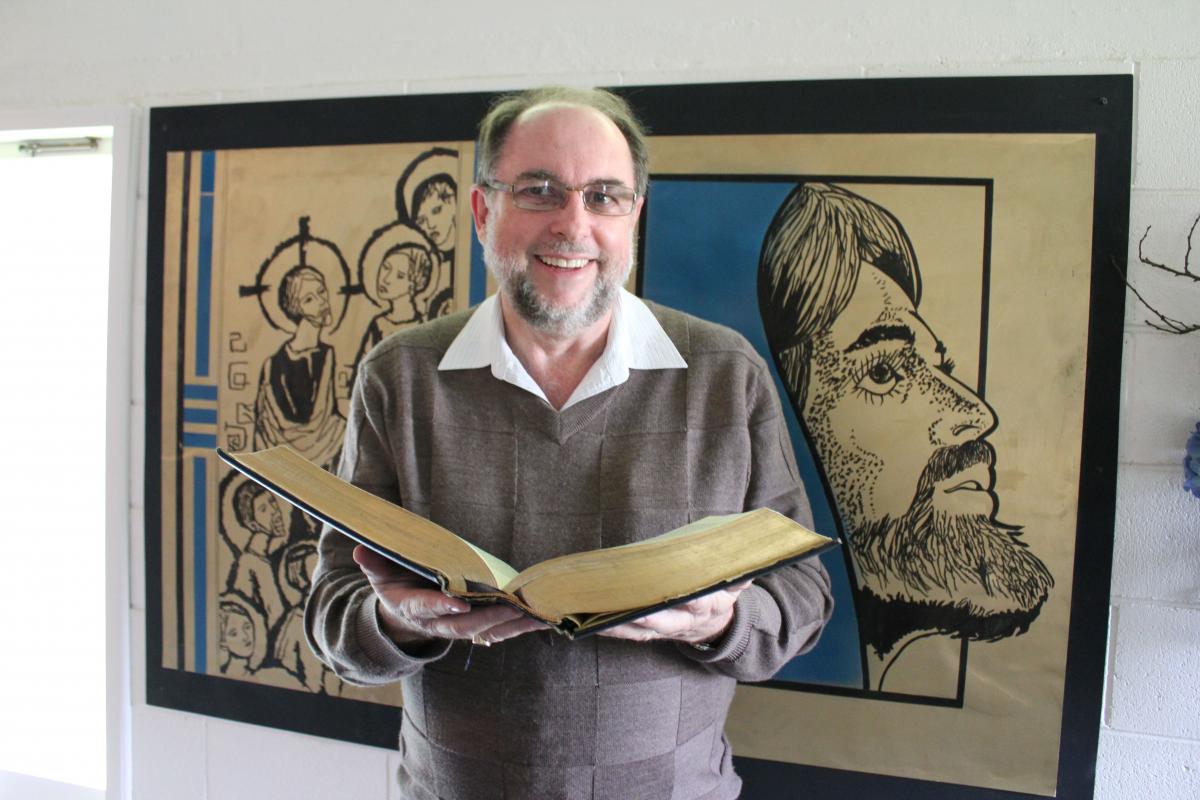 Readings Sunday 25 July
John 6:1-24 New International Version
Click here For Reference, Footnotes & the Reading in Korean and English
https://www.biblegateway.com
Jesus feeds the five thousand

1 Some time after this, Jesus crossed to the far shore of the Sea of Galilee (that is, the Sea of Tiberias),
2 and a great crowd of people followed him because they saw the signs he had performed by healing those who were ill.
3 Then Jesus went up on a mountainside and sat down with his disciples.
4 The Jewish Passover Festival was near.

5 When Jesus looked up and saw a great crowd coming towards him, he said to Philip, 'Where shall we buy bread for these people to eat?'
6 He asked this only to test him, for he already had in mind what he was going to do.

7 Philip answered him, 'It would take more than half a year's wages to buy enough bread for each one to have a bite!'

8 Another of his disciples, Andrew, Simon Peter's brother, spoke up,
9 'Here is a boy with five small barley loaves and two small fish, but how far will they go among so many?'

10 Jesus said, 'Make the people sit down.' There was plenty of grass in that place, and they sat down (about five thousand men were there).
11 Jesus then took the loaves, gave thanks, and distributed to those who were seated as much as they wanted. He did the same with the fish.

12 When they had all had enough to eat, he said to his disciples, 'Gather the pieces that are left over. Let nothing be wasted.'
13 So they gathered them and filled twelve baskets with the pieces of the five barley loaves left over by those who had eaten.

14 After the people saw the sign Jesus performed, they began to say, 'Surely this is the Prophet who is to come into the world.'
15 Jesus, knowing that they intended to come and make him king by force, withdrew again to a mountain by himself.

Jesus walks on the water

16 When evening came, his disciples went down to the lake,
17 where they got into a boat and set off across the lake for Capernaum. By now it was dark, and Jesus had not yet joined them.
18 A strong wind was blowing and the waters grew rough.
19 When they had rowed about three or four miles, they saw Jesus approaching the boat, walking on the water; and they were frightened.
20 But he said to them, 'It is I; don't be afraid.'
21 Then they were willing to take him into the boat, and immediately the boat reached the shore where they were heading.

22 The next day the crowd that had stayed on the opposite shore of the lake realised that only one boat had been there, and that Jesus had not entered it with his disciples, but that they had gone away alone.
23 Then some boats from Tiberias landed near the place where the people had eaten the bread after the Lord had given thanks.
24 Once the crowd realised that neither Jesus nor his disciples were there, they got into the boats and went to Capernaum in search of Jesus.
Click here For Reference, Footnotes & the Reading in Korean and English
https://www.biblegateway.com
Readings Sunday 18 July
Ephesians 2:11-22 New International Version
Click here For Reference, Footnotes & the Reading in Korean and English
https://www.biblegateway.com
Jew and Gentile reconciled through Christ

11 Therefore, remember that formerly you who are Gentiles by birth and called 'uncircumcised' by those who call themselves 'the circumcision' (which is done in the body by human hands) –
12 remember that at that time you were separate from Christ, excluded from citizenship in Israel and foreigners to the covenants of the promise, without hope and without God in the world.
13 But now in Christ Jesus you who once were far away have been brought near by the blood of Christ.

14 For he himself is our peace, who has made the two groups one and has destroyed the barrier, the dividing wall of hostility,
15 by setting aside in his flesh the law with its commands and regulations. His purpose was to create in himself one new humanity out of the two, thus making peace,
16 and in one body to reconcile both of them to God through the cross, by which he put to death their hostility.
17 He came and preached peace to you who were far away and peace to those who were near.
18 For through him we both have access to the Father by one Spirit.

19 Consequently, you are no longer foreigners and strangers, but fellow citizens with God's people and also members of his household,
20 built on the foundation of the apostles and prophets, with Christ Jesus himself as the chief cornerstone.
21 In him the whole building is joined together and rises to become a holy temple in the Lord.
22 And in him you too are being built together to become a dwelling in which God lives by his Spirit.
Mark 6:30-34 New International Version
Jesus feeds the five thousand

30 The apostles gathered round Jesus and reported to him all they had done and taught.
31 Then, because so many people were coming and going that they did not even have a chance to eat, he said to them, 'Come with me by yourselves to a quiet place and get some rest.'

32 So they went away by themselves in a boat to a solitary place.
33 But many who saw them leaving recognised them and ran on foot from all the towns and got there ahead of them.
34 When Jesus landed and saw a large crowd, he had compassion on them, because they were like sheep without a shepherd. So he began teaching them many things.
Mark 6:53-56 New International Version - UK
53 When they had crossed over, they landed at Gennesaret and anchored there. 54 As soon as they got out of the boat, people recognised Jesus.
55 They ran throughout that whole region and carried those who were ill on mats to wherever they heard he was.
56 And wherever he went – into villages, towns or countryside – they placed those who were ill in the market-places. They begged him to let them touch even the edge of his cloak, and all who touched it were healed.
Click here For Reference, Footnotes & the Reading in Korean and English
https://www.biblegateway.com
Readings Sunday 11 July
Psalm 19:1-9 New International Version
Psalm 19
For the director of music. A psalm of David.

1
The heavens declare the glory of God;
the skies proclaim the work of his hands.
2
Day after day they pour forth speech;
night after night they reveal knowledge.
3
They have no speech, they use no words;
no sound is heard from them.
4
Yet their voice goes out into all the earth,
their words to the ends of the world.
In the heavens God has pitched a tent for the sun.
5
It is like a bridegroom coming out of his chamber,
like a champion rejoicing to run his course.
6
It rises at one end of the heavens
and makes its circuit to the other;
nothing is deprived of its warmth.
7
The law of the Lord is perfect,
refreshing the soul.
The statutes of the Lord are trustworthy,
making wise the simple.
8
The precepts of the Lord are right,
giving joy to the heart.
The commands of the Lord are radiant,
giving light to the eyes.
9
The fear of the Lord is pure,
enduring for ever.
The decrees of the Lord are firm,
and all of them are righteous.
John 5:1-13 New International Version
The healing at the pool

1 Some time later, Jesus went up to Jerusalem for one of the Jewish festivals.
2 Now there is in Jerusalem near the Sheep Gate a pool, which in Aramaic is called Bethesda and which is surrounded by five covered colonnades.
3 Here a great number of disabled people used to lie – the blind, the lame, the paralysed.
5 One who was there had been an invalid for thirty-eight years.
6 When Jesus saw him lying there and learned that he had been in this condition for a long time, he asked him, 'Do you want to get well?'

7 'Sir,' the invalid replied, 'I have no one to help me into the pool when the water is stirred. While I am trying to get in, someone else goes down ahead of me.'

8 Then Jesus said to him, 'Get up! Pick up your mat and walk.' 9 At once the man was cured; he picked up his mat and walked.

The day on which this took place was a Sabbath,
10 and so the Jewish leaders said to the man who had been healed, 'It is the Sabbath; the law forbids you to carry your mat.'

11 But he replied, 'The man who made me well said to me, "Pick up your mat and walk."'

12 So they asked him, 'Who is this fellow who told you to pick it up and walk?'

13 The man who was healed had no idea who it was, for Jesus had slipped away into the crowd that was there.
John 5:16-28 New International Version
The authority of the Son
16 So, because Jesus was doing these things on the Sabbath, the Jewish leaders began to persecute him.
17 In his defence Jesus said to them, 'My Father is always at his work to this very day, and I too am working.'
18 For this reason they tried all the more to kill him; not only was he breaking the Sabbath, but he was even calling God his own Father, making himself equal with God.
19 Jesus gave them this answer: 'Very truly I tell you, the Son can do nothing by himself; he can do only what he sees his Father doing, because whatever the Father does the Son also does.
20 For the Father loves the Son and shows him all he does. Yes, and he will show him even greater works than these, so that you will be amazed.
21 For just as the Father raises the dead and gives them life, even so the Son gives life to whom he is pleased to give it.
22 Moreover, the Father judges no one, but has entrusted all judgment to the Son,
23 that all may honour the Son just as they honour the Father. Whoever does not honour the Son does not honour the Father, who sent him.
24 'Very truly I tell you, whoever hears my word and believes him who sent me has eternal life and will not be judged but has crossed over from death to life.
25 Very truly I tell you, a time is coming and has now come when the dead will hear the voice of the Son of God and those who hear will live.
26 For as the Father has life in himself, so he has granted the Son also to have life in himself.
27 And he has given him authority to judge because he is the Son of Man.
28 'Do not be amazed at this, for a time is coming when all who are in their graves will hear his voice
Readings Sunday 4th July
John 1:11-18 New International Version
11 He came to that which was his own, but his own did not receive him.
12 Yet to all who did receive him, to those who believed in his name, he gave the right to become children of God –
13 children born not of natural descent, nor of human decision or a husband's will, but born of God.

14 The Word became flesh and made his dwelling among us. We have seen his glory, the glory of the one and only Son, who came from the Father, full of grace and truth.

15 (John testified concerning him. He cried out, saying, 'This is the one I spoke about when I said, "He who comes after me has surpassed me because he was before me."')
16 Out of his fullness we have all received grace in place of grace already given.
17 For the law was given through Moses; grace and truth came through Jesus Christ.
18 No one has ever seen God, but the one and only Son, who is himself God and is in the closest relationship with the Father, has made him known.
2 Corinthians 12:2-10 New International Version
2 I know a man in Christ who fourteen years ago was caught up to the third heaven. Whether it was in the body or out of the body I do not know – God knows.
3 And I know that this man – whether in the body or apart from the body I do not know, but God knows –
4 was caught up to paradise and heard inexpressible things, things that no one is permitted to tell.
5 I will boast about a man like that, but I will not boast about myself, except about my weaknesses.
6 Even if I should choose to boast, I would not be a fool, because I would be speaking the truth. But I refrain, so no one will think more of me than is warranted by what I do or say,
7 or because of these surpassingly great revelations. Therefore, in order to keep me from becoming conceited, I was given a thorn in my flesh, a messenger of Satan, to torment me.
8 Three times I pleaded with the Lord to take it away from me.
9 But he said to me, 'My grace is sufficient for you, for my power is made perfect in weakness.' Therefore I will boast all the more gladly about my weaknesses, so that Christ's power may rest on me.
10 That is why, for Christ's sake, I delight in weaknesses, in insults, in hardships, in persecutions, in difficulties. For when I am weak, then I am strong.
For More videos from our Pastor Robin click on this link This will take you to his YouTube video page.


recoded November 2019