Readings and Previous edited recorded services and sermons are here. Click on the date to go to that reading and the video.
11 April
Acts 4:32-35 page 1697
John 20:19-31 page 1686


18 April
Luke 24:36-48 page 1644
Acts 1:1-8 page 1690


21 March
Isaiah 56:4-8 page 1149
John 12:20-33 page 1671


28 March
Mark 11:1-11 page 1572
Mark 15:16-39 page 1583


04 April
1 Corinthians 15:1-11 page 1789
Mark 16:1-8 page 1584


Our Sunday morning services here are also on Zoom and YouTube
If you can't get on Zoom watch on YouTube as a Live stream on the day on this link:
http://www.bbp.org.nz/news_live.htm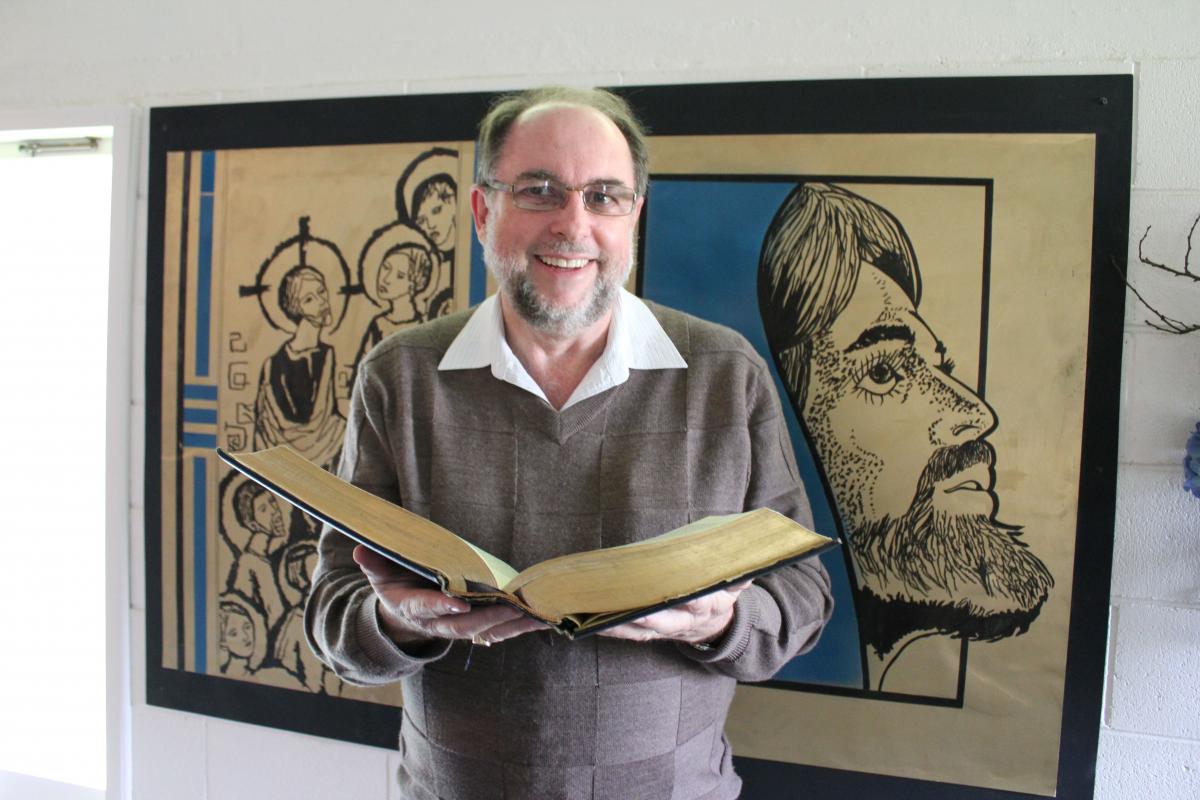 The Tenebrae Service @ BBP 2021 - The readings and the stroy leading to the cross - and darkness.
Readings Sunday 18 April 2021
Luke 24:36-48 New International Version
Jesus appears to the disciples

36 While they were still talking about this, Jesus himself stood among them and said to them, 'Peace be with you.'

37 They were startled and frightened, thinking they saw a ghost.
38 He said to them, 'Why are you troubled, and why do doubts rise in your minds?
39 Look at my hands and my feet. It is I myself! Touch me and see; a ghost does not have flesh and bones, as you see I have.'

40 When he had said this, he showed them his hands and feet.
41 And while they still did not believe it because of joy and amazement, he asked them, 'Do you have anything here to eat?'
42 They gave him a piece of broiled fish,
43 and he took it and ate it in their presence.

44 He said to them, 'This is what I told you while I was still with you: everything must be fulfilled that is written about me in the Law of Moses, the Prophets and the Psalms.'

45 Then he opened their minds so they could understand the Scriptures.
46 He told them, 'This is what is written: the Messiah will suffer and rise from the dead on the third day,
47 and repentance for the forgiveness of sins will be preached in his name to all nations, beginning at Jerusalem.
48 You are witnesses of these things.
Acts 1:1-8 New International Version
Jesus taken up into heaven

1 In my former book, Theophilus, I wrote about all that Jesus began to do and to teach
2 until the day he was taken up to heaven, after giving instructions through the Holy Spirit to the apostles he had chosen.
3 After his suffering, he presented himself to them and gave many convincing proofs that he was alive. He appeared to them over a period of forty days and spoke about the kingdom of God.
4 On one occasion, while he was eating with them, he gave them this command: 'Do not leave Jerusalem, but wait for the gift my Father promised, which you have heard me speak about.
5 For John baptised with water, but in a few days you will be baptised with the Holy Spirit.'

6 Then they gathered round him and asked him, 'Lord, are you at this time going to restore the kingdom to Israel?'

7 He said to them: 'It is not for you to know the times or dates the Father has set by his own authority.
8 But you will receive power when the Holy Spirit comes on you; and you will be my witnesses in Jerusalem, and in all Judea and Samaria, and to the ends of the earth.'
Readings Sunday 11 April 2021
Sundays at BBP 11 April 2021 Believing Thomas finds life in Jesus' name - He is the man alive again.
Acts 4:32-35 New International Version
The believers share their possessions

32 All the believers were one in heart and mind. No one claimed that any of their possessions was their own, but they shared everything they had.
33 With great power the apostles continued to testify to the resurrection of the Lord Jesus. And God's grace was so powerfully at work in them all
34 that there was no needy person among them. For from time to time those who owned land or houses sold them, brought the money from the sales
35 and put it at the apostles' feet, and it was distributed to anyone who had need.
John 20:19-31 New International Version
Jesus appears to his disciples

19 On the evening of that first day of the week, when the disciples were together, with the doors locked for fear of the Jewish leaders, Jesus came and stood among them and said, 'Peace be with you!'
20 After he said this, he showed them his hands and side. The disciples were overjoyed when they saw the Lord.

21 Again Jesus said, 'Peace be with you! As the Father has sent me, I am sending you.'
22 And with that he breathed on them and said, 'Receive the Holy Spirit.
23 If you forgive anyone's sins, their sins are forgiven; if you do not forgive them, they are not forgiven.' Jesus appears to Thomas

24 Now Thomas (also known as Didymus), one of the Twelve, was not with the disciples when Jesus came.
25 So the other disciples told him, 'We have seen the Lord!'

But he said to them, 'Unless I see the nail marks in his hands and put my finger where the nails were, and put my hand into his side, I will not believe.'

26 A week later his disciples were in the house again, and Thomas was with them. Though the doors were locked, Jesus came and stood among them and said, 'Peace be with you!'
27 Then he said to Thomas, 'Put your finger here; see my hands. Reach out your hand and put it into my side. Stop doubting and believe.'

28 Thomas said to him, 'My Lord and my God!'

29 Then Jesus told him, 'Because you have seen me, you have believed; blessed are those who have not seen and yet have believed.'

The purpose of John's gospel

30 Jesus performed many other signs in the presence of his disciples, which are not recorded in this book.
31 But these are written that you may believe that Jesus is the Messiah, the Son of God, and that by believing you may have life in his name.
Readings Sunday 04 April 2021
1 Corinthians 15:1-11 New International Version
The resurrection of Christ

1 Now, brothers and sisters, I want to remind you of the gospel I preached to you, which you received and on which you have taken your stand.
2 By this gospel you are saved, if you hold firmly to the word I preached to you. Otherwise, you have believed in vain.

3 For what I received I passed on to you as of first importance: that Christ died for our sins according to the Scriptures,
4 that he was buried, that he was raised on the third day according to the Scriptures,
5 and that he appeared to Cephas, and then to the Twelve.
6 After that, he appeared to more than five hundred of the brothers and sisters at the same time, most of whom are still living, though some have fallen asleep.
7 Then he appeared to James, then to all the apostles, 8 and last of all he appeared to me also, as to one abnormally born.

9 For I am the least of the apostles and do not even deserve to be called an apostle, because I persecuted the church of God.
10 But by the grace of God I am what I am, and his grace to me was not without effect. No, I worked harder than all of them – yet not I, but the grace of God that was with me.
11 Whether, then, it is I or they, this is what we preach, and this is what you believed.
Mark 16:1-8 New International Version
Jesus has risen

1 When the Sabbath was over, Mary Magdalene, Mary the mother of James, and Salome bought spices so that they might go to anoint Jesus' body.
2 Very early on the first day of the week, just after sunrise, they were on their way to the tomb
3 and they asked each other, 'Who will roll the stone away from the entrance of the tomb?'

4 But when they looked up, they saw that the stone, which was very large, had been rolled away.
5 As they entered the tomb, they saw a young man dressed in a white robe sitting on the right side, and they were alarmed.

6 'Don't be alarmed,' he said. 'You are looking for Jesus the Nazarene, who was crucified. He has risen! He is not here. See the place where they laid him.
7 But go, tell his disciples and Peter, "He is going ahead of you into Galilee. There you will see him, just as he told you."'

8 Trembling and bewildered, the women went out and fled from the tomb. They said nothing to anyone, because they were afraid.
Readings Sunday 28 March 2021
28 March 2021 Palm Sunday @ BBP CHurch - How did it come to this? From Palms to Passion with Jesus.
Mark 11:1-11 New International Version
Jesus comes to Jerusalem as king

1 As they approached Jerusalem and came to Bethphage and Bethany at the Mount of Olives, Jesus sent two of his disciples,
2 saying to them, 'Go to the village ahead of you, and just as you enter it, you will find a colt tied there, which no one has ever ridden. Untie it and bring it here.
3 If anyone asks you, "Why are you doing this?" say, "The Lord needs it and will send it back here shortly."'

4 They went and found a colt outside in the street, tied at a doorway. As they untied it,
5 some people standing there asked, 'What are you doing, untying that colt?'
6 They answered as Jesus had told them to, and the people let them go.
7 When they brought the colt to Jesus and threw their cloaks over it, he sat on it.
8 Many people spread their cloaks on the road, while others spread branches they had cut in the fields.
9 Those who went ahead and those who followed shouted,

'Hosanna!'

'Blessed is he who comes in the name of the Lord!'

10
'Blessed is the coming kingdom of our father David!'

'Hosanna in the highest heaven!'

11 Jesus entered Jerusalem and went into the temple courts. He looked around at everything, but since it was already late, he went out to Bethany with the Twelve.
Mark 15:16-39 New International Version
The soldiers mock Jesus

16 The soldiers led Jesus away into the palace (that is, the Praetorium) and called together the whole company of soldiers.
17 They put a purple robe on him, then twisted together a crown of thorns and set it on him.
18 And they began to call out to him, 'Hail, king of the Jews!'
19 Again and again they struck him on the head with a staff and spat on him. Falling on their knees, they paid homage to him.
20 And when they had mocked him, they took off the purple robe and put his own clothes on him. Then they led him out to crucify him.

The crucifixion of Jesus

21 A certain man from Cyrene, Simon, the father of Alexander and Rufus, was passing by on his way in from the country, and they forced him to carry the cross.
22 They brought Jesus to the place called Golgotha (which means 'the place of the skull').
23 Then they offered him wine mixed with myrrh, but he did not take it.
24 And they crucified him. Dividing up his clothes, they cast lots to see what each would get.

25 It was nine in the morning when they crucified him.
26 The written notice of the charge against him read: the king of the jews.

27 They crucified two rebels with him, one on his right and one on his left.
29 Those who passed by hurled insults at him, shaking their heads and saying, 'So! You who are going to destroy the temple and build it in three days,
30 come down from the cross and save yourself!'
31 In the same way the chief priests and the teachers of the law mocked him among themselves. 'He saved others,' they said, 'but he can't save himself!
32 Let this Messiah, this king of Israel, come down now from the cross, that we may see and believe.' Those crucified with him also heaped insults on him. The death of Jesus

33 At noon, darkness came over the whole land until three in the afternoon.
34 And at three in the afternoon Jesus cried out in a loud voice, 'Eloi, Eloi, lema sabachthani?' (which means 'My God, my God, why have you forsaken me?').

35 When some of those standing near heard this, they said, 'Listen, he's calling Elijah.'

36 Someone ran, filled a sponge with wine vinegar, put it on a staff, and offered it to Jesus to drink. 'Now leave him alone. Let's see if Elijah comes to take him down,' he said.

37 With a loud cry, Jesus breathed his last.

38 The curtain of the temple was torn in two from top to bottom.
39 And when the centurion, who stood there in front of Jesus, saw how he died, he said, 'Surely this man was the Son of God!'
Readings Sunday 21 March 2021
21 March 2021 @ BBP - "And I, when I am lifted up from the earth, will draw all people to myself."
Isaiah 56:4-8 New International Version
4 For this is what the Lord says:

'To the eunuchs who keep my Sabbaths,
who choose what pleases me
and hold fast to my covenant –
5 to them I will give within my temple and its walls
a memorial and a name
better than sons and daughters;
I will give them an everlasting name
that will endure for ever.
6 And foreigners who bind themselves to the Lord
to minister to him,
to love the name of the Lord,
and to be his servants,
all who keep the Sabbath without desecrating it
and who hold fast to my covenant –
7 these I will bring to my holy mountain
and give them joy in my house of prayer.
Their burnt offerings and sacrifices
will be accepted on my altar;
for my house will be called
a house of prayer for all nations.'
8 The Sovereign Lord declares –
he who gathers the exiles of Israel:
'I will gather still others to them
besides those already gathered.'
John 12:20-33 New International Version
Jesus predicts his death

20 Now there were some Greeks among those who went up to worship at the festival.
21 They came to Philip, who was from Bethsaida in Galilee, with a request. 'Sir,' they said, 'we would like to see Jesus.'
22 Philip went to tell Andrew; Andrew and Philip in turn told Jesus.

23 Jesus replied, 'The hour has come for the Son of Man to be glorified.
24 Very truly I tell you, unless a grain of wheat falls to the ground and dies, it remains only a single seed. But if it dies, it produces many seeds.
25 Anyone who loves their life will lose it, while anyone who hates their life in this world will keep it for eternal life.
26 Whoever serves me must follow me; and where I am, my servant also will be. My Father will honour the one who serves me.

27 'Now my soul is troubled, and what shall I say? "Father, save me from this hour"? No, it was for this very reason I came to this hour.
28 Father, glorify your name!'

Then a voice came from heaven, 'I have glorified it, and will glorify it again.'

29 The crowd that was there and heard it said it had thundered; others said an angel had spoken to him.

30 Jesus said, 'This voice was for your benefit, not mine.
31 Now is the time for judgment on this world; now the prince of this world will be driven out. 32 And I, when I am lifted up[a] from the earth, will draw all people to myself.'
33 He said this to show the kind of death he was going to die.
For More videos from our Pastor Robin click on this link This will take you to his YouTube video page.


recoded November 2019